Sunday, May 26, 2019
12:00 - 1:30 pm
LAC
This event has already occurred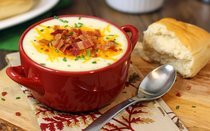 All are welcome to join us for Soup and Bun Lunch!
This is a time of great fellowship and awesome homemade soups to eat!!
Please sign up on the clipboards at church to bring either Soup or Buns.
Please Note: Soup & Bun is on the 4th Sunday this month, due to the 3rd Sunday being the Victoria Day Long Weekend.